I've developed something of a lip product addiction, which does not on the surface seem to have much to do with cardigans. But it does. I think about which lip gloss to put in my handbag more than what shirt to wear (an unheard of anomaly) and lust after the clicky packaging on Chanel lipsticks with, admittedly, too much enthusiasm. It's a bit extreme, a little shallow, and not like me. Or, it wasn't like me.
The version of me with the laser focused lip preoccupation wears more make-up all the time. She wears dresses and tights more than jeans and jumpers. And only uses tote bags to carry her groceries back from Waitrose. One year ago me had a lot of cardigans. A cardigan for every day of the week, and then some. This had everything to do with being a high school teacher, because adding a cardigan to skinny jeans and metallic flats was my conception of a cute, professional, yet still recognizably feminine, and not completely irrelevant person.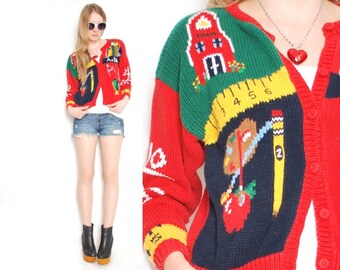 When teaching started to become that thing that will be my job for a while, instead of that thing that I'm doing in between cool and creative writing jobs, a slow creeping terror began to set in. It was subtle and kind of had a poltergeist demon whisper thing going on.
"…this over air-conditioned classroom is the only place you will experience human interaction and it will be with children with the intellectual capacity of grapefruits…."
"…your only creative activity until you retire in 40 years will be to slightly differentiate the same curriculum year after year…and no one will care…"
And other funny things, like
"…you might die here. Wearing a cardigan…"
Hahaha. Not hysterical at all, really. Honestly, eating toddler ravioli cups for lunch was also getting to me. But it was the closet full of cardigans, shoving my over-indulgent dress collection into the dark dusty recesses that most clearly signified the need for change.
Fast forward a year, and I live in the greatest city in the world with amazing friends, hobbies (!), and an unscheduled freedom that gives me time and space to be spontaneous, adventurous, and wear all my dresses. With full awareness that this is a temporary state of being, I'm soaking it up for all it's worth. Part of me knows that the cardigans are waiting in the aforementioned recesses. And their day may come given the student loan statement I'm currently ignoring. But that day is not today. And there is also a glimmer of hope that another sartorial future awaits. Fingers crossed for lots of hats.